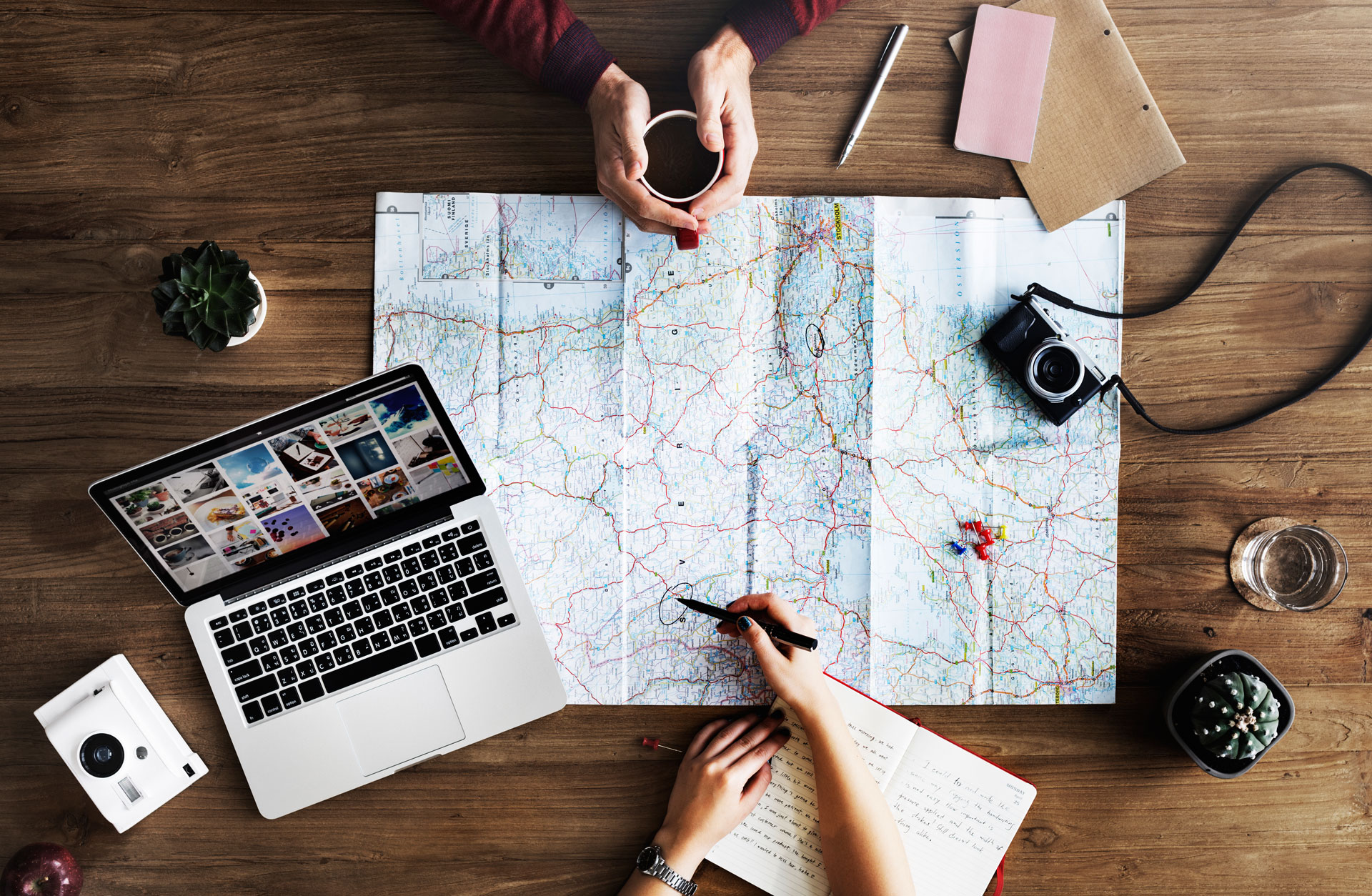 Sites and apps a traveler should use, like, NOW!
Moving past January, it is time to start planning your next big travel. So many places, so little time, right. Well, let's help you take the hassle out of your next travel with a few tech solutions. Choosing an app or a good travel website can be time-consuming, and we hope to be of help by providing you some of the best free travel apps and most useful travel related websites for 2017. Let's make the where-to-go and where-to-stay a bit easier and maybe even flawless! From finding interesting and rarely explored routes, to finding the cheapest flights and accommodation, to helping you experience the cities like a local, these apps and websites we've chosen for you will ease out the planning and make your travel more enjoyable.
Flights, Planning and Travel routes
Planning can be a nightmare, but at the same time it's challenging and fun; getting to know all those places, routes and flight combinations. Here are a few websites/apps to give you some ideas, insights and to ease your travel planning and costs.
eDreams.net – is a flight generator, helping you to book your next vacation at lowest prices. Actually, it might be one of the best flight generators out there. How? The fast and really efficient website (and app as well) is getting the best deals and discounts from over 450 airlines showing you the cheapest, shortest and smartest option for flight tickets. You can easily choose flight options, companies and other services like great deals for hotels, cars or combo deals at best prices. The Mobile App is fast and free and you can download it for iPhone or Android.
rome2rio – this is one of the best online trip planning platforms out there, helping you discover how to get anywhere by plane, train, bus, car and ferry. The Website (and app ) calculates all the possible routes for your desired destination (or an entire trip), giving you options for different transportation combinations together with pricing and approximate time of arrival. Rome2Rio's travel search engine contains route information from over 4,800 transport operators in over 158 countries. The website even provides accommodation, car hire and suggests things to do in the selected destination. The mobile app is easy-to-use, free and you can download it for iPhone or Android.
utrip – is a free and easy to use travel-planning platform providing travelers the greatest planning and traveling experience. The platform makes it easy for travelers to create their perfect trip quickly and in a matter of clicks, combining the best of both worlds-artificial intelligence and human experience. Having a vast travel database curated by local area experts the traveler can not only choose their destination but also their interest, budgets and traveling preferences. The powerful AI algorithm on the platform creates millions of potential combinations and possibilities for the travelers' profile. This may include hotels, sites, activities and restaurants, creating a personalized day-by-day journey with maps. Unfortunately, this AWESOME platform still has limited places inboard. The mobile app is free, and you can download it for iPhone or Android.
Holiday pirates – pirates indeed, this platform offers amazing and unimaginable last minute offers. You can browse through the offered deals or start searching your own. It generates the cheapest accommodation and travel options and gives you last minute deals for the desired places. Its only fault is that the service is not enabled worldwide. You can only choose the deals originating in 11 countries. So, if you search deals from the UK, you'll have to plan the trip to the UK first. The mobile app is also free and you can download it for iPhone or Android.
Flightstats – as the name says, Flightstats is a global flight tracking platform. It provides flight status, tracker and sends flight alerts. You need to know the airline company and the flight number in order to get tracking. The platform also provides airport overview, shows the departures, arrivals, maps and tracking of airports. It's a great tool for busy schedules, connection flights or if you have to wait for your friends arrival. Their app is also free of charge and you can download it for iPhone or Android.
---
Booking and Accommodation
If you decide not to use trip generator and go manually and book everything, after managing your transport, you'll need to start planning your accommodation. From our experience, we have selected some of the best lodging apps and websites so that you get the most from your trip.
Airbnb – In an era of aggregators, Airbnb became one of the best platforms for accommodation. Making you feel at home, staying at people's homes or even with them can be a truly enriching cultural experience. Both the website and the mobile app are well organized, helping you find the perfect accommodation for your trip, based on your budget, preferences, and interests. You can browse through hosts' feedback and you can also chat with them for any questions. From our experience, Airbnb is a great and quite affordable service for group travelers. Hosts are almost always very polite and helpful and if you're up to it, they can make your trip local-like. The mobile app is free and you can download it for iPhone and Android.
Booking.com – unlike airbnb where you choose to stay in people's homes, Booking.com offers you deals for hotels, hostels and rental apartments. The website (and mobile app as well) offers you great-value travel deals and place suggestion. But most importantly it has 1,138,034 properties worldwide. Most bookings are made with credit cards, but some venues do no mandate a credit card at the time of reservation – instead you can pay upon arrival. The Destination inspiration is also a cool option, which helps you find monthly destinations based on your preferences such as accommodation price, weather, and popularity. Unfortunately, hosts are not always responsive, since the emails do not go straight to them but through booking's service, which might be a setback sometimes. The mobile apps are, however, free and you can download them by scanning their code on the website or on the following links: iPhone and Android.
Kayak – is another well-organized travel generator, providing you with accommodation options concerning hotels and private rentals. The search is generated among hundreds of hotels at once, providing the best price. You can also choose to compare the Kayak offerings with other services like booking.com, hotels.com, Expedia, Orbitz and Priceline to make sure you receive the cheapest or best option. Moreover, Kayak includes a car rental generator engine, so that you don't lose time in searching mobility options through separate car rental portals.The Kayak app is also free and can be downloaded for iPhone and Android.
Hotel Tonight – you just got notified you need to travel? No problem, because with the Hotel Tonight travel app you can book at the last moment since the site offers fantastic last-minute deals on great hotels. With downloading the app, which is, of course, free for both iPhone and Android, it's easy for you to find a hotel at no time, even in the case of missed or canceled flights.
---
Getting around
Once you've booked everything and finally arrived at your destination, it is time to get around, experience the most out of the place you'll stay in and more importantly not get lost. If you thought we would recommend Google maps now wait till we tell you it's our second best app for the purpose.
Maps.me – is the best choice of maps for your travel. It is the fastest, the most detailed completely offline search mobile app. Maps.me include the maps for the entire world (yes, even the smallest villages and islands) and not only maps – museums, restaurants, shopping malls – everything, literally everything!. The maps never freeze, you operate them smoothly zooming in and out, and with the GPS Positioning and compass, you can locate exactly where you are. The app also suggests features and points of interest. As soon as you download the app, for free for iPhone and Android, you download the maps of the places you're about to visit, using your Wi-Fi connection and you start exploring completely Offline, saving money on roaming charges.
Google Maps – Everyone is already familiar with Google Maps, and the mobile app is considered one of the best navigation apps out there. It is another solution that also works great especially if you have saved places which are then easier to access with the suggested local transportation options. It works best when online, but you can also download some areas for offline use as well. If you don't have it, get it here for iPhone and Android.
Uber – If you are not a fan of the public transportation and you don't like spending time walking, there is another solution, usually cheaper than the local taxi. Again, on the platform of shared-economy apps, Uber is a ride-sharing app currently active in around 77 countries and 527 cities, making it the biggest car-sharing platform. The app enables you to easily request a ride giving you a choice of vehicle rates and fare quotes to choose. Even more convenient, you can connect with the selected driver, track the car's location, and securely pay using a credit card. It is easier than looking for a taxi when abroad but more expensive than the public transport. Also, you can sign up for a ride, or you can become a driver yourself. The app is free for both iPhone and Android.
Citymapper – called the Ultimate Transport app is specially designed for confusing cities! The app makes A to B trip planning easier with estimated time of arrival and including all transport types (subway, bus, rail, ferry, bike and car sharing). It is the best way to find and utilize public transportation. Citymapper is a great solution if you are a first-timer in a city and using the public transport. The app displays the arrival and departure schedules of all available transport means and what's even better, you can add and subscribe to particular train or bus lines, and the app will send notifications when you need to get off.The app is available on the web and also free to download for iPhone and Android as well.
---
Where to go next
We've got you covered with the transport and getting out and about at your destination, now we get to the fun part! Want to try the local specialties, the best cuisine or just need a cup of extra tasty coffee? Or maybe you would like to go to a museum or an art gallery? Here is a selection of apps that will help you find the best places during your stay.
Stay.com – The best way to experience a city is by taking suggestions from locals. And Stay.com has recommendations from locals neatly organized in custom tailored guides. Every traveler picks the city to travel and browses the previously created guides, exploring the best places to eat, drink, and have fun. It is the app for urban travelers, and its only flaw is that not all cities from the world are yet available, but the list grows daily. Download the iPhone and Android app for free.
Trip advisor – is the biggest site for travel insights, reviews, and suggestions. It includes hotels, holiday rentals, things to do, restaurants and flights, but most important of all; it includes local picks, customer opinions and user rated experience. It will help you decide where you wanna grab something to eat based on the client reviews. It includes a wide range of guides, whether you want to choose a budget eats or a luxury one or you want to experience the local cuisine, culture and landmarks. Trip advisor is the largest and most popular web platform also serving all mobile platforms, so you can easily download it for free for iPhone, Android, Microsoft.
Google Trips – Well, it's Google's relatively new travel tool, helping travelers plan and organize their travels in all-in-one platform. From having all your reservation and confirmation numbers pulled from your Gmail or other inbox, to suggesting you must-visit places, to automatically discovering new sights, and tracking your travel info at all time. Google Trips also stores all the data offline, so you can access them at any time. So you don't have much to do, the app does almost everything for you. You can download it for free, for iPhone and Android and enjoy your travel.
Guides by Lonely planet – the newest addition to the Lonely planet family, the Guides – is helping the ultimate travelers to get to know the destinations to the core directly from their mobile device. Whether you want to explore the best destinations or you want to know more about your next travel destination, Guides offers you useful tips and advice from on-the-ground experts making the Guides the ultimate travel resource. Get the iPhone and Android apps now for free and start exploring for your next trip!
Foursquare – ultimately, but still imminent Foursquare is widely popular and most commonly used application for finding the best places in the area. Working online, you're able to locate the coolest places the best food, nightlife, and entertainment in your area. And how do you know the places are good? Well from user check-ins and reviews. For years now users have been checking into places, posting photos of their food, drink or favorite places first via Foursquare itself and later via Swarm, making the app the best tool for discovering hidden places. It's a must, and you better try not to forget using it on your next trip. Explore via your iPhone, Android or Windows for free.
---
There are of course many other apps and websites you can use for travel assistance, but this is our little selection. We've used them, and we're quite happy with the provided experience. Don't forget to snap everything from your trip, check in on Facebook and post the photos on Instagram as well, since no travel is ever complete without these two apps, right?
Feel free to tell us how you found our suggestions; if you liked us, we'd send you newer and better apps as they arrive.
Marija Stardelova                                                                                                                                   Marketing Specialist and Blogger, Orange Interactive Technology
Moving past January, it is time to start planning your next big travel. So many places, so little time, right. Well, let's help you take the hassle out of your next travel with a few tech solutions. Choosing an app or a good travel website can be time-consuming, and we hope to be of help…