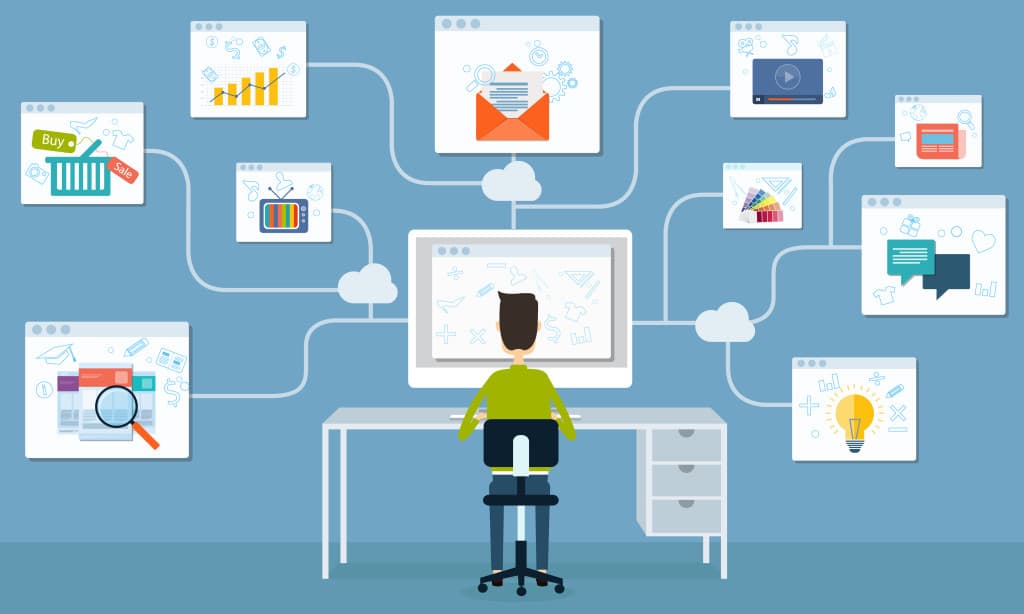 E-commerce Marketing trends for 2017
Online shoppers are here to stay
It is already the fourth month of 2017. By now, the total number of internet users worldwide has reached 3.5 billion from which 40% have bought at least one thing online. Or in plain numbers, that means that at this moment there are more than 1.4 billion customers worldwide available to be attracted by the e-commerce players in the market. And those numbers are about to rise as marketers everywhere are doing everything they can to get the piece of the online shopping pie. As e-Commerce itself is rapidly growing, marketers are using all possible forms of marketing channels and techniques to stand up against the already large competition and get more customers to shop their brands. But this refining of the E-Commerce Marketing is constantly making customers even harder to win.
It's all about the user experience
As it grows, the market becomes more innovative increasingly technology friendly. With all those new means, like VR for example, not only that attract new customers, but they boost their engagement, creating an extraordinary user experiences. And customers really care about that.  Companies and brands working in line with behavioral trends and following the consumers instead the otherwise will easily succeed in their e-Commerce marketing planning. Knowing the customers, not only current but potential ones as well and integrating their behaviors into the planning will be beneficial for both sides. For example, knowing that nowadays 51% of Americans prefer online shopping rather than in-store — number that rises to 67% for Millennials and 56% for Gen Xers will help you in your further positioning if you're delivering in the US market.
The megatrends in e-Commerce
Looking at the numbers, one can easily conclude that brands without online stores are doomed to disappear. Starting from the fact that 2017's customers owns at least 3 devices – smartphone, tablet, and computer, they expect quick, easy, and, above all, user friendly online shopping experience. So make this your starting point in the planning. Brands will need to be both aware of and benefit from the latest trends in ecommerce. To make it easier, we've identified several e-Commerce trends for 2017 to be taken into consideration in order brands to ensure both online and in-store sales growth.
Be mobile friendly and advertise on Mobile: If you own a site that is not responsible for mobile devices, you're wrong on so many levels. They are convenient and accessible making the customers addicted to them. So, if your customer is constantly holding a device, the chances theywill shop from it are really high. Some researchers show that 88% of consumers who search for a type of local business on a mobile device call or go to that business within 24 hours. So, if you don't own a responsive web site, you'll be losing at least 70% of the visitors. True that mobile site doesn't sound like a marketing tool, but if you think about advertising your products or services on Google or Social Medias, more than 0% of the traffic will be mobile device generated. PewInternet.org has researched the US population, concluding that two thirds have a mobile device and using it for the majority of their online searcher. 40% of the Americans abandon a slow loading website. While 74% of them return to mobile friendly websites, 67% were more likely to buy from a mobile friendly website. So, to conclude, making your website responsive, thus mobile friendly, will ultimately lead to more visits and necessarily to maximization of sales.
Content Marketing: It's 2017, customers already hate advertisements and over 200 million of them have installed an ad blocker. No one wants to be spammed anymore. So now what? You pull out that king card and win those customers with content. There are many companies that already sell thanks to content marketing. Communication with audience in all possible ways will both cost you lower and generate you 3x as many leads. It is simple – people love to be consuming content and creating interesting, relevant and catchy content will definitely increase your traffic and help you in sales growth.
Listening to the customers and understanding their journey: Let's face it: if one user has a bad experience on your website, he might never come back. Or even worse, a word-of-mouth campaign those customers bring can mean a big failure for a brand. This makes the user experience (UX) of your website now more important than ever. Following and understanding the customer journey by using Google analytics or any other analytics tool available should become top priority for any brand. No one should afford loopholes in their websites since they will lead to sales drops. As Brian Solls in his new book X: The experience when business meets design says: "Experiences are more important than products now. In fact, experiences are products." So a smart thing to do would be to surf your website as if you were a customer. Shop like you would do on any other site. See what works well and what doesn't and figure out a way to make the annoying stuff easier.
Consume the technology, engage with VR and AR: From day to day harder it gets to become a market leader. The competition is fierce and overwhelming. So earlier youstart investing in the futuristic marketing, the sooner you'll stand out from the competition. And by futuristic marketing, we mean investing in the "next big thing" which right now is the Virtual and Augmented reality. Take PokemonGo for example. It became a massive viral hit last year. And the total amount of active VR users is forecasted to reach 171 million by next year. So the time is now, take this advantage and improve the eCommerce experience with VR. Make your product virtually presented so the online shopper experiences them as he is in your physical store. Yes it is an expensive cutting-edge of technology. And yes, if you can afford it, go for it and immerse your customers with and VR experience.
Take what your customers give you with User generated content: The idea of motivating your customers to generate content for you has been ongoing for a while now.But is not as easy as it sounds. A brand should really stand out to have its customers speak instead. Being relevant, unique or even funny are among the attributes a brand should have to trigger conversation from its customers. And believed or not, user generated content id 20% more influential than any other media but much harder to have. Increasing the conversation should be among top of the planning list for eCommerce strategy for this year. Especially when 70% of consumers consider product and brand recommendations from their social circles trustworthy and 46% trust online reviews posted by other customers. In comparison, only 10% trust banner ads on websites. So, ask your customer to post images from your products, give them a hash tag, give them coupon or small rewards and increase the conversation for better sales.
Invest in Review Marketing and Social feedback: And by invest, we mean try really, really hard about this. Today you'll win a customer based on the reviews. It's pure psychology. People like to be a part of the pact. They believe s recommendation they receive from a close member or someone they trust. So, the right thing to do now is to have a small incentive investment in your current customers in order to gain new ones. It will ultimately pay off. Numbers say that almost 63% of consumers are more likely to purchase from a site if it has product ratings and reviews from other customers. So if we haven't convinced you yet, these numbers should.
Hire a professional Influencer: Influencer Marketing can really help you increase your reach and ultimately your sales, if you do it right. And the right way to do it is by knowing and finding the right influencers. Whichever platform you choose (Twitter, Facebook, Youtube, Snapchat or Instagram) they each have different influencers. And it is still human recommendation. Consider influencers as brand ambassadors. Have them say what you have to say instead of you and have them interact with a community that will eventually become your community. And if knowing that almost 74% of consumers use social media channels to make purchase decisions and the previously stated facts that they believe user recommendations over brand ones should motivate you enough. As soon as customers relate to your brand it will be much easier.
Make your customers feel special with a Loyalty program: It is quite easy. Reward your current customers for their loyalty. Coupons or points for discounts on every purchase will make them really happy. At the same time it is quite a good trigger for other customers to become yours as well. Attract the "onetime shoppers", intrigue the "browsing shoppers" and reward the "loyals" and you will definitely rise your online sales.
Be everywhere. Use an Omni-Channel selling. You have aneCommerce site. Your online shop is seamless. But why restrict? Put your products everywhere, on all selling platforms such as Amazon, eBay, Etsy, Jet, etc. This may seem like a contrary-marketing for you but you are wrong again. Multichannel shoppers do shop more often and they do spend over 3 times more than single-channel shoppers.
Other important marketing channels to focus your eCommerce in 2017:
Better & Free Return Shipping
Online shoppers are here to stay It is already the fourth month of 2017. By now, the total number of internet users worldwide has reached 3.5 billion from which 40% have bought at least one thing online. Or in plain numbers, that means that at this moment there are more than 1.4 billion customers worldwide…