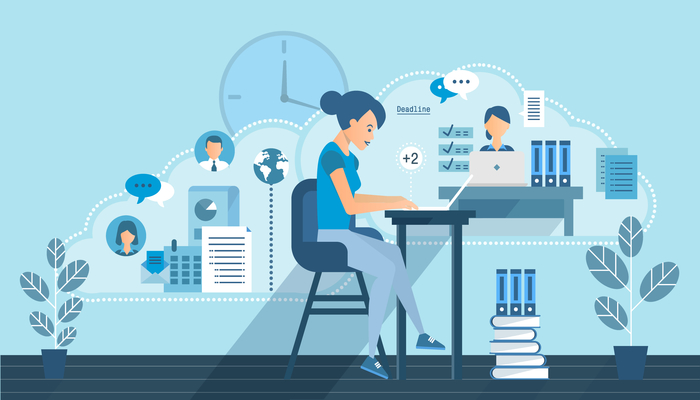 COVID-19: Why Your Business Needs An Emergency Remote Work Plan
Despite spreading rapidly across the globe, COVID-19 (colloquially known as the coronavirus) is also highlighting how thousands of businesses can be disrupted when employees are not able to come into work.
Some of the world's largest companies such as Microsoft, Facebook, Google, Apple, and Amazon have already told thousands of their employees to work from home.
The good news is that many businesses have the tools to navigate through the crisis. Employees don't need to get cabin fever by staying at home with nothing to do – they can continue working.
A recent study found that one in ten workers is already spending at least ten hours completing tasks outside of the office. Furthermore, more than half of workers are already spending more time doing work outside of the office now than they did five years ago.
However, preparing the business to allow for emergency remote work relies on more than simply giving employees a laptop that they can use at home. Businesses should be using COVID-19 as motivation to look at their plans and develop proper emergency response solutions.
Consistent communication and collaboration
One of the risks with remote work is that it will lead to lower productivity – that employees are simply unable to work as well from home as they can from the office. This is particularly true if the employee is part of a team.
A remote working solution should include full collaboration tools – including instant messaging, video conferencing, VoIP equipment (make sure everyone has a good microphone) and online document sharing (G Suite partners like Orange, Codelattice can help you with) so that the remote workers are able to continue to operate with their teams seamlessly of all ages.
Manage the chain of communication
Employees working from home during a crisis may well feel very anxious about their jobs and employer. After all, they know that a crisis is going on, and they don't have the same access to their teammates and office environment to get a feel for the dynamics and atmosphere going on.
To prevent these feelings of isolation and anxiety affecting employees, it's important that, as part of any emergency remote working plan, that the organization develops clear lines of communication.
Studies show that the person that an employee reports to is a person that they trust more than the government, the media, and business in general. It is critically important that that person is communicating regularly with all of their remote workers, and the messaging is clear, cohesive, and consistent across the organization.
Furthermore, the communication should make it clear that the business is monitoring the on-going situation, and what steps they are taking to mitigate against risk. That information should be based on the best advice of the government and other responsible bodies.
Maintaining the health and safety of employees
Governments are typically hesitant to put bans on travel and the movement of people, but it's important that employees believe that their organization practices an abundance of caution with their health.
The need to cancel travel and seek alternative ways of doing business (such as video conferencing for overseas meetings) is an important contingency to take into account when developing an emergency remote working plan.
Audit cybersecurity of company resources
Remote working does open up some new cybersecurity risks, with employees often tapping into the network from personal or dual-purpose devices, and running on home internet connections.
It's important to run a full audit of the environment to identify where the additional security risks might occur, and find solutions to continue to ensure security and compliance while enabling remote work.
Furthermore, it's important to train staff on best security practices when accessing the network remotely.
Finally, monitoring the impact that the remote work is having is important – especially at the start when the emergency plans are being tested for the first time. Is there any impact on productivity, and the speed in which tasks are being completed?
Are there incidences of communication breaking down, and if so, what was the underlying cause?
Has the organization discovered savings (perhaps by cutting travel) that can be replicated, even once the emergency period has passed and work has been returned to normal?
In many ways having an emergency, remote work policy is also an opportunity to find a new and better way of doing business, that has the potential to benefit your organization in the long term.

Despite spreading rapidly across the globe, COVID-19 (colloquially known as the coronavirus) is also highlighting how thousands of businesses can be disrupted when employees are not able to come into work. Some of the world's largest companies such as Microsoft, Facebook, Google, Apple, and Amazon have already told thousands of their employees to work from…