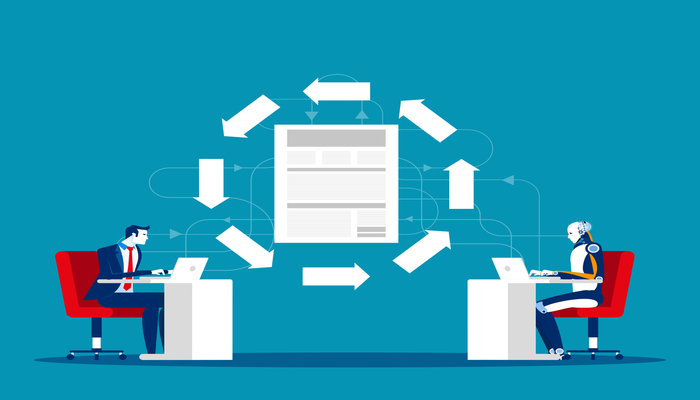 The Importance Of Choosing The Right RPA Partner
RPA is revolutionizing the way we do business; a sweeping statement perhaps, but one that is becoming truer by the day.
Described as transformational and even disruptive, RPA is being used to automate a wide range of routine tasks in almost every industry from finance and HR to IT and marketing.
Organizations across the globe are using RPA to reap big rewards including greater efficiency, higher productivity, increased output, better quality and accuracy, and even improved staff morale.
What is RPA?
Robotic Process Automation (RPA) software automates repetitive, high volume, rules-based tasks such as performing calculations, producing reports, cutting and pasting, and filling out forms.
Its primary purpose is to reduce the need for human involvement and free up an organization's employees to focus on more profitable core business tasks.
RPA can be developed in-house or delivered as a service (RPAaaS) through Business Process Outsourcing (BPO). Unless your organization has the resources to create its own RPA development team, the second option makes better business sense for most organizations.
Why is RPA important for your business?
According to Ken Hickey, the Head of Business Process Solutions at Converga, "In 2020 the RPA market will experience compound annual growth of 46% to $870m across Australia and New Zealand. It is estimated that as much as 50% of internal RPA programs in 2020 will fail due to cost, increasing process complexity, and onsite management and maintenance of an RPA program."
Implementing RPA in your business will enable your key personnel to shift their focus from repetitive mundane tasks to those requiring reasoning, judgment, emotional input, and human interaction.
And in today's highly competitive business environment quality of service is becoming increasingly important. So implementing RPA so your team can focus on your customers instead of your processes could be the competitive edge your organization is looking for.
How to choose the right RPA service provider?
If you choose RPAaaS over in-house development, it is crucially important to make sure you choose the right RPA service provider. With more providers appearing every day as the industry expands, the need to be selective has never been greater.
That's because not all providers will have your organization's best interests at heart. Some will try and sell you a one-size-fits-all solution that doesn't have the flexibility to be customized to your needs. Others will try to over-automate your processes, leading to a system that's overly complex and confusing for your staff.
What to look for in an RPA provider?
The right service provider for your organization will offer most or all of the following in their RPA solution.
Comprehensive customer support: They will provide round-the-clock technical support during the crucial implementation phase and then daily personalized support by phone, fax, and email after your system are up and running.
Industry experience: As well as exemplary credentials in the general RPA field, they should ideally specialize in RPA solutions for your particular industry.
Agility and flexibility: They will be willing and able to proactively meet changing customer needs over time. That means listening to your concerns and offering alternative solutions to potential problems that might arise both during and after implementation.
Commitment to innovation: They will be dedicated to staying abreast of all the latest technological innovations and improvements in the RPA field and incorporating them into their tools and services as they emerge.
User-friendly software: Their automation tools and features will be intuitive and easy to use, making the transition for new users much faster and easier to achieve.
Comprehensive training: They will provide full training for all users, both onsite and remotely through videos, webinars, and the internet.
Fast implementation: As implementation is the most expensive part of the RPA process, they will have software that integrates with a range of platforms and technologies and can be quickly and seamlessly established.
Easy scalability: Their software can be quickly and easily scaled to meet changing short-term demand as well as long-term company growth.
Advanced analytics: Their software will also be designed to collect and analyze operational metrics to help you determine where system improvements can be made.
Enterprise-grade security: Their platform will provide process oversight for auditing and compliance purposes.
Fast execution: Their RPA solution will be fast and deliver fast execution of installed features.
Autonomous operation: Their solution will also be capable of handling problems and errors without the need for manual intervention.
Finding the right RPA provider involves a similar approach to that used when recruiting any outside service provider. The first step is knowing what you want the service to achieve for your organization, the timeframe for implementation that will cause the least amount of disruption to your existing workflows, and the budget you have to make it all happen.
The next step is to arm yourself with some basic product knowledge, so you won't be led astray by jargon and marketing speak.
After that, it's a matter of checking credentials, reading reviews, talking to colleagues who've already ventured into the RPA space, and trying different pegs in different holes until you find the one that perfectly fits your organization's needs.

RPA is revolutionizing the way we do business; a sweeping statement perhaps, but one that is becoming truer by the day. Described as transformational and even disruptive, RPA is being used to automate a wide range of routine tasks in almost every industry from finance and HR to IT and marketing. Organizations across the globe…