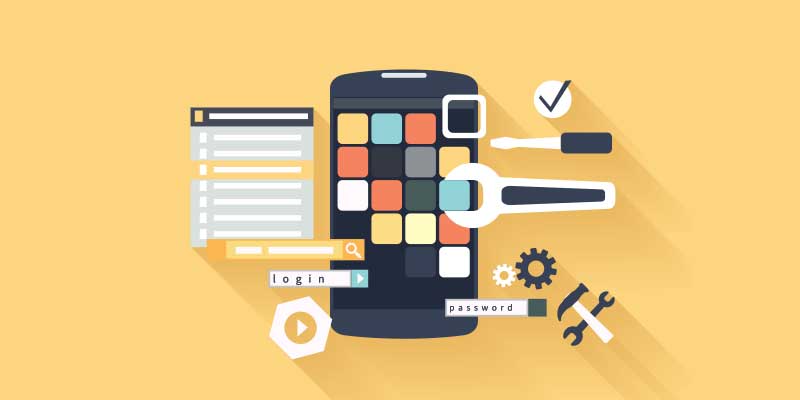 Why investing in Mobile App Development is such a good idea
The World has Gone Mobile
Today's customers own multiple devices either for social engagement, news and of course, shopping. They are using their smartphones to find local businesses, to get reviews, quality feedback and recommendations. Mobile channels have increasingly replaced the traditional shopping window. This means that just having a website is no longer enough. Even if it is responsive. To grow bigger online, you need to have a Facebook page for reviews and special offers, an Instagram profile for generating cool customer feedback, a Twitter account for quick and brief info placement, a YouTube channel, Pinterest boards… But as thrives grow, you most of all need an intuitive purchasing and browsing alternative – a mobile app. This user turnout from desktop to mobile is the switch you need to grab, immediately. The customers truly rely on the mobile apps and they expect every business or brand to have its own dedicated one. This makes the mobile app development a necessity in gaining market competitiveness over other business, larger customer base, and of course, better sales.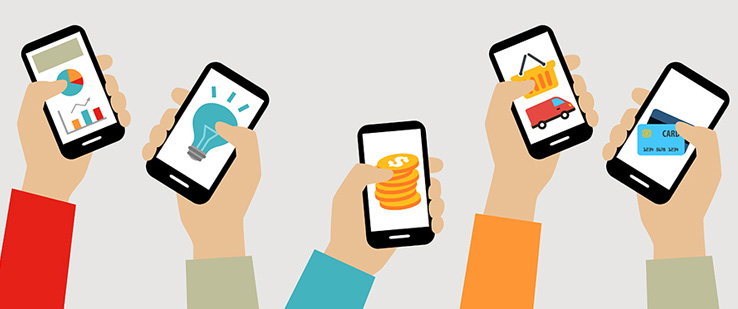 The vital pulse of your business
The quick and on-demand access to information and various solutions creates indispensable comfort and convenience among the customers, thus making your base grow bigger. Being an inseparable part of their everyday living, always in their pocket or even better in their hands will make your business truly stand out. And this is not it! You can use your app as a marketing tool for promotion and advertising of your business. There are endless pros and reasons why a business should invest in mobile app development, and below is a brief list of the most important ones.
Bond with your customers being visible at all times
Bonding is important, especially in building strong customers base. Given the fact that most of the millennials have gone on mobile a while ago and that they spend at least 2 hours a day on their smartphones, you would definitely want to be "in the way". Also, most of the users out there find mobile apps easier to use than websites, since the main purpose of an app is exactly that – to offer a next level of usability. It is quite hard to engage new and emerging customers with outdated techniques, right? And placing your business in the customer's smartphone makes your company as flexible as customers expect it to be. Once installed, your custom mobile app will bring your customer's experience in an entirely new level. They will be able to easily reach your support team, quickly view and shop your products and services and simply "rely" on your brand being here for them. You'll be able to provide value for them enabling them to collect loyalty points. This rapidly increases the trust and recognition among the targeted audience, creating even more downloads and of course, many advantages your company.
Your direct Marketing Channel
Think of your mobile app as your On-The-Go Marketing tool. Since, one of the biggest benefits will be ability to place all your information, including sales and special offers and promotions, right in front of your customer's fingertips. They will be able to access your offers from anywhere and at any given time, even in the middle of the night. This will automatically make your company a top-of-the-mind option to the customers and when they'll need to purchase something they more likely go to you rather than other brand. Also, with the apps push notifications you can get even close to interaction with them, reminding them about the novelties and benefits for them as your app's users. And with the right placement you could easily gain regular app usage and with regular app usage you'll reinforce your business, resulting in better service and ultimately, better sales.
Build and improve brand recognition
You have built brand recognition when a customer wants to buy a product or service and your brand is the first one to come on his mind. Well, a mobile app will help you reach exactly that. It will improve your business and brand awareness. Like any other advertising tool, except your app will be placed in your customer's hand, constantly looking at it, scrolling it and experiencing it at fullest. So it is truly important to have all the features your customers would like, at the same time making it functional, stylish, informative, and well branded and beautifully designed. This will work best for your brand. And as you do so, the customers will involve in the app, but moreover, they will involve into your brand, products and services.
Next level of customer engagement
Think of your app as a one point stop for your customers. The place where they will be able to get all the information they'll need, and most importantly, the way to reach you. Having a custom developed mobile app will change the communication with the customers and bring it to a next level. And communication is really important to the customers. Being able to interact with your business wherever they are will make your brand even more relevant and attractive. It will boost interest among the audience and increase engagement. And once you reach satisfactory customer engagement, you will be able to improve your social standing. And the millennials are obsessed with the social Medias. So your app will be your social platform. Make sure you integrate features like comments, likes and shares. Your content updates will immediately notify your customers, making them able to share the content over the social media platforms and continue the conversation out there. These features will definitely make your customers spend even more time on your app, become part of a community grow your brand as a customer-oriented business.
Collect and Analyze data real-time
Data is important, but getting it and analyzing it can be slow and stressful process. Well, not with a mobile app. It will save your day and you budget since focus groups and questionnaires can be expensive and time consuming. The mobile app captures all the customer preference and action information real-time. You can then use this data to deliver personalized content relevant to the exact customer using your app at the moment. You can use their location and profile information so you create personalized offers tailored to the data you've received, making your app more attractive to every one of your customers. But, make sure you inform your customers about data collection program explaining that it will be make their customer experience better, but give them an option to opt-in. And once you hook them and have their trust, use it wisely and avoid disappointing them.
So it is no longer a question that investing in mobile app/software development is important for your business. But to make it work and to make it successful, you would need to invest in professional development to make sure you stand in front of your competitors. The Orange Interactive Technology team of experts will help you create well thought action plans and mobile app development tailored for your business purposes.
The World has Gone Mobile Today's customers own multiple devices either for social engagement, news and of course, shopping. They are using their smartphones to find local businesses, to get reviews, quality feedback and recommendations. Mobile channels have increasingly replaced the traditional shopping window. This means that just having a website is no longer enough.…